Every now and then you read a book, watch a movie or simply hear a story where you learn something that dramatically changes your life. It's profound when it happens. But as remarkable as it may be, it is also rare and unpredictable.
I've come to realize such special lessons only come when the moment is right. Call it destiny if you will, but I believe when the student is ready, the master will appear.
I also believe we will not move on to the next lesson until we've fully understood, accepted and embraced the last one. Today I'd like to share the most powerful lessons I have learned.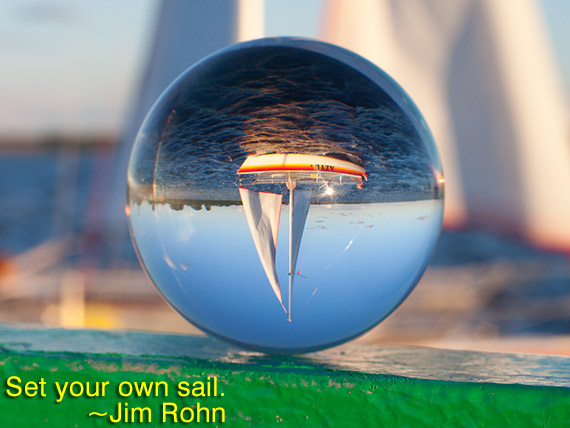 Here are 7 quotes that encompass lessons that have changed my life and maybe they'll change yours too:
Believe in yourself. Have faith in your abilities. Without a humble but reasonable confidence in your own powers you cannot be successful or happy.

―Norman Vincent Peale
Peale's quote encompasses the message of his book "The Power of Positive Thinking". A friend loaned me his copy of this book and from the very first page I became enthralled. I knew I could improve and become a better person, but never understood how and "The Power of Positive Thinking" taught me how.
I can never fully explain how life changing Peale's book was for me. The lessons contained in it started me on a new journey, one that is positive and hopeful. I learned to embrace every day with a humble but reasonable confidence in myself and my abilities.
I highly recommend "The Power of Positive Thinking" to anyone, especially if you have been struggling for some time and you want to find a way to rise above your struggles.
If you don't design your own life plan, chances are you'll fall into someone else's plan. And guess what they have planned for you? Not much.

―Jim Rohn
Few teachers teach lessons that are so direct, honest and significant. Rohn often talked about possibilities and opportunities as wind and that the wind blows around all of us, but the difference is how you set your sail.
Peale's lesson came first and I am fortunate it did, because had I not learned the lessons of positive thinking I would not have been ready to design my own life plan. I would not have written my memoir and self-published it. I also would not have created this blog you are reading.
By writing, self-publishing and even starting my blogs, I began to design my own life as a writer. I could have continued to write in my personal journals and stayed in obscurity, but that would have been self-limiting.
So what's your passion? Have you designed your own plan to bring life to your passion?
If you're waiting for someone else to give you an opportunity or design your plan for you, well, be prepared if they don't have much in store for you.
Go ahead, set your own sail.
Don't let what you can't do stop you from doing what you can do.

―John Wooden
Oh boy, one of the most important lessons of all. Our failures, our mistakes and our weaknesses are usually at the forefront of our minds. It's natural and normal to want to improve in the things we do not do well, but our energy would be better spent focusing on the things we do well.
Don't let what you can't do hold you back from doing what you can do.
In other words set your sail by your strengths.
Embrace your passion and allow your strengths to grow. Your confidence in your abilities will naturally grow as well.
Anyone who has never made a mistake has never tried anything new.

―Albert Einstein
We all make mistakes, plain and simple. Some mistakes are major, but most are minor and repairable. However, the only way to avoid a mistake is to attempt nothing at all.
Is that really an option?
I used to fear making mistakes. I always took the path of least resistance, so I thought.
It's better to do what you want to do and learn from the mistakes you make. You're going to make them, but you may discover they are not so bad after all.
Whenever you learn from a mistake you improve and grow from it. Well, my friends, there's a great sense of accomplishment and satisfaction in that.
Half the failures in life arise from pulling in the horse as he is leaping.

―Augustus William Hare and Julius Charles Hare
Too many people have given up just when they were about to cross the finish line. The problem was they didn't know they were so close.
If you're going to do something, be prepared to go all the way. Fear and doubt will always find their way into our consciousness when we attempt to go beyond what we've done before and if we let them, they will stop us.
The key is to follow through all the way to the finish. We usually come up short because we stop ourselves when it gets too tough and seems hopeless. On the contrary, that's when you're about to break through.
Keep going. Be all in.
You have to let people see what you wrote. It will never be perfect, but perfect is overrated.

―Tina Fey
Perfection is unachievable and irrelevant and yet, too many of us get caught up trying to achieve it.
Do what you can to the best of your ability. You'll discover that most of the time, that's good enough.
I wrote a short, free eBook on this subject. Feel free to read it.
If today were the last day of my life, would I want to do what I am about to do today?

―Steve Jobs
One of the most valuable lessons in life is learning to enjoy each day, each moment and do what you are about to do with purpose. Simply going through the motions is not enough.
You've got to be intentional about your life.
Are you happy? Are you doing what you want to be doing? If so, that's fantastic. If not, then what are you going to do today?
I hope you enjoyed these quotes and the lessons they taught me.  Here's what I would like to ask you to do:
If you're a blogger, write a post about quotes that represent valuable lessons that changed your life. If you're not a blogger, that's okay, feel free to list your quotes in the comments.
Comments
comments